Note: This page is meant for those who don't know how to use emote wheel or don't use one.
Overview
The Emote Wheel is an reference to the Popular FPS And 3rd Person Shooter, Fortnite. If you wanna look at the emote's information, go down. To activate Emote Wheel In-game, press "."
Emotes
FNF
Smug Dance
Default Dance
Infestation
Caramelldansen
Torture
Torture Dance
The Torture Dance Emote is a popular meme made from the anime, "JoJo's Bizarre Adventure". It exists in A Universal Time to make it more meme-ish and more JoJo Referencing.
For it's actual originality, click this link: https://youtu.be/AQx_KMoCgJU
Smug Dancing
The Smug Dance Emote is another popular (probably dead) meme from the game, "A Hat In Time". It's another emote In A Universal Time to make AUT more meme-ish.
Originality: https://youtu.be/8kM8qaNuE_U
FNF
The FNF Dance Emote is a reference to the growing game Friday Night Funkin'. Just a bit of rythm games reference in AUT to make it more Meme-ish
Soundtrack's: Dad Battle, M.I.L.F, South, and Blammed.
Infestation
The Infestation dance is a reference to the Calamity Terraria mod. The user will clap along with the beat. The song ends a lot more earlier then the actual song,
CarmellDancing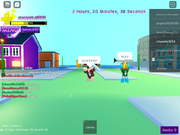 This emote is one of the most popular used through out a daily basis in A Universal Time.
The emote is just The user swinging their arms left and right.
Community content is available under
CC-BY-SA
unless otherwise noted.