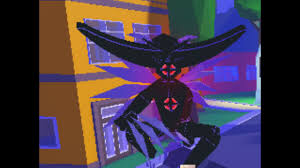 Moveset
Ultimate Move : Endgame - The player press "8" Eight times Creating a Countdown starting from the Number 5:38. Once the countdown finishes the server crashes
Claw Scratch - Click to swipe the claw scratching the opposing target,
Crucify Smash - Press "E" to smash the target with a Giant Stone Cross, It will instantly Oof the target.
Removal Smash - Press "R" to smash the target with a Giant Stone Cross, but this time it will kick the target from the game.
Ban Smash - Press "F" to crash the Stone Cross on the head of the target resulting in a Server Ban
Grab - Press "T" to grab the target in your hands similar to Gaster's awakened version
Soul Drag - Use "T" to grab the target and then un-summon your stand with "Q", after the stand is summoned back the target should have dissapeared.
Claw Crush - "T" + "Y" = After grabbing the target and pressing "Y" it results in the target being crushed in your arms with an instant death sometimes.
Speed Boost - Press "C" to boost your characters speed, it does not require Crosshead to be summoned in order to work.
Information
We currently do not know the origin of Crosshead but it is a custom admin stand owned by "Zulu"?
Luna owns this stand. (possibly)
"Zulu" is a roblox girl, i cannot find any other information or information about her because i cannot find her name in the group ranks or either she changed her name. Crosshead is an admin stand showcased by the youtuber "Infernasu". Right now i cannot find any info if it has a quote or any origin.
IMPORTANT NOTE
THE NAMES IN THE MOVESET HAVE NOT BEEN SPECIFIED AND SO I NAMED THE MOVES ACCORDING TO FUNCTIONS
IF YOU HAVE ANY COMPLAINTS PLEASE COMMENT. It's extremely op.
This is a admin stand
there is no way to obtain it unless you were given a admin arrow
In some showcases you might not be able to find it, that is due to the reason that cross-heads name appears as: ☒☒☒☒☒☒☒☒☒☒ this is because nobody really thought they would see that part.....
oh boy they were wrong.
also steve.
Community content is available under
CC-BY-SA
unless otherwise noted.