"BWAHHH"
Info
Crystallized's model features a diagonal light purple stripe pattern on a darker purple body. Small chunks of crystal protrudes out of their head. Their face features a glowing orange circle with a cross. Similar to the face, their hands feature a neon orange cross as well. He can only be obtained by using a Crystal Gem on Made In Heaven.
Moveset
Passive - Crystal Clear
Crystallized is immune to all STW variants' time stops.
Click / LMB - Light Punch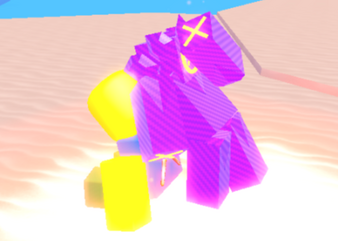 The user uses their own fists to punch their enemy. Does 27 damage per punch.
E + Hold - Crystal Barrage
Crystalized does a short burst of swift and heavy strikes. Does 12 damage per hit and a maximum of 144 damage in total.
R - Crystal Heavy Punch
Crystallized performs a single heavy blow at the enemy. Does 82 damage.
F - Crystal Cowling
Crystallized forms a shield around you made of crystal. When in the crystal form you regenerate faster. Press F again to exit the crystal, sending shrapnel in all directions. Does 337 damage to anyone hit by the shards.
C - Dash
Dashes forward very quickly, the dash can go through walls. The move has a cooldown of 3 seconds ( actual cd instead of 2 seconds ).
Z - Jump
Like a stand jump, but jumps straight upwards. Pair F with this if you need to escape a fight to regen.
G - Pose
The user sits on the ground while the stand faces the opposite direction covering its face. The song that plays when posing is; Crystallized by Camellia
Evolutions
Switching to Crystallized after getting a status effect from hitting a meteor with MUI's F or E move or Zenith's LMB move will grant you a 1/150 chance to get the 4th Camellia stand, Planet Shaper.
Trivia
There is a bug for mobile users in which using the Z move while in the Crystal Shield (F move) will immediately jump after breaking the shield, Jumps can be stacked to go to Space.
There is also a glitch where if in TS, you can still dash. Once the TS ends, you will immediately be brought to where you dashed to, making it look like teleportation.
If you get the status effect and trade somebody who has crystalized, they will get planet shaper.
Pros And Cons
Pros:
[F] move is incredibly strong when it hits a player
Excellent short range option.
[Z + C] can make a very good mobility combo.

Cons:
Very limited moveset / lacks moves
Takes about 3 hours to the least to the obtain (people usual use VIP servers to get this)
Its evolution Planet Shaper takes very long to get taking nearly 5 - 6 hours to get on average
Community content is available under
CC-BY-SA
unless otherwise noted.