| | |
| --- | --- |
| | Ignite is unobtainable. Sorry! You can only get it by trading now, or if it is tradelocked you can never get it again. Either that or it is an admin item/Stand. |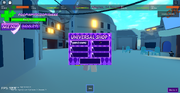 Info
You can get ignite for one stack near the sand village where the shop keeper is. All you have to do is talk to the small guard and it will bring up a gui that can be exited if you click on the NPC again, reset, or leave. It seems to be a work in progress gui since there are spaces that still need to be filled out and there are no exit buttons. When it is in your inventory it is labeled as Blaze. It also cannot be stored in your inventory. Also it gets dropped on death so you cannot close out the menu with blaze. It does not have a model yet.
This item can be placed on NPC OR PLAYERS... after placed it makes a cool burning effect on the player (the player doesn't deal any damage tho) It lasts about five seconds and looks like the model of the character/npc is on fire.
The NPC that you get ignite from is going to be the small figure near the universal shop. When it is done it is going to have a large variety of things in it. It is also said that it will give you abilities for the price of a stack or two.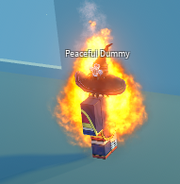 Note: THIS ITEM IS NOT WORTH GETTING. IT'S A WASTE OF STACKS AND TAKES 10 STACKS JUST TO KILL ONE PERSON.