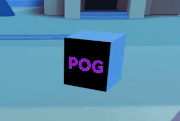 Pog Box is an Misc item in AUT. This misc might get removed in the Universal update soon.
It was used to get "The Knight", this no longer works. This was an joke misc, but when The City Of Tears was removed, Then it was used for The Knight.
This was added because The City Of Tears Was removed from the game. This used to be a castle in the city of tears.
Trivia
It was inspired by the popular discord meme "POG".