Notes/Info
NEW UNIVERSE RARITY TIER LIST HAS BEEN MADE.
This is the official Rarity Tier List made by the staff team.
Most community-made tier lists contradict the official one, so be wary that this tier list may not be 100% accurate.
The chart tier list is more accurate than the image.
The tier list suggests you can trade different Tusk ACTS, this is false.
This tier list is here for various reasons.

1. The official AUT Trading Server's capacity is full.
2. You don't use Discord.
3. The Trello is closed.
Obtainable Tier List
| Tier | Stand/Spec |
| --- | --- |
| S+ | Reaper, Goku, Broly,Stwr |
| S | Nocturnus, Gojo,Spr |
| A | PLANET // SHAPER, Gaster, Sol, Dawn, X-Chara, Sans, Tusk Act 4, Tusk Act 3, The World High Voltage, Made in Heaven, The World Over Heaven, D4C |
| B | Tusk Act 2, OMNITRIX, Killua, Sakuya Izayoi, C-Moon, The World, Star Platinum: The World, Tusk Act 1 |
| C | King Crimson, Shadow DIO, Crystallized, Gold Experience, Whitesnake, Nuclear Star, Killer Queen, Star Platinum, Standless |
Unobtainable Stand Tier List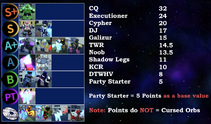 Item Tier List
| Tier | Item |
| --- | --- |
| S+ | Cursed Orb |
| S | Evil Fragments, 7 Souls, Dragon Ball |
| S- | Eye of the saint,Bone |
| A | Tales Of The Universe, Requiem Arrow, Heart of the Saint |
| B | Yo-yo, Watch, Left Arm Of The Saint, Vial of Joestar Blood, X-Soul, DIO's Bone, Mysterious Hat |
| C | Stand Arrow |