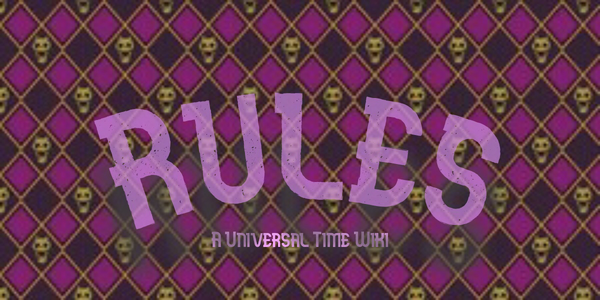 Rules
Our Universal Rules
Rule
Rule Name
Description
How Long Of Block.
Cause Of Block Or Warning.
Rule 1
Profanity and NSFW/Gore
Respect all users of this wiki, even if you don't agree with their opinions. If you don't, a warning happens. Please also do not post NSFW or gore here.
Unnecessary Use Of Profanity/Toxicity - 4 Day (Account Creation disabled, Can't edit user page) NSFW/Gore - Infinite (Account Creation disabled, Can't edit user page)
Disrespecting other users.
Rule 2
Bringing Other Wiki's Drama Here
We do not want your drama here. TYVM
1 Day Block (Account Creation disabled, Can't edit user page)
Bringing Unnecessary Drama
Rule 3
Griefing An Important Page
Griefing an important page will cause a block and a warning.
1st Time - 5 days Block

2nd Time - 1 week Block (Account Creation disabled, Can't edit user page)

3rd Time - 4 week Block (Acc Creation disabled, Can't edit user page)

Griefing
Rule 4
No Trading
Trading Here is called "Black Marketing" to the A Universal Time Team, if you're reported to the AUT Team, you will get banned from the game because of it.
Permanent block (Appealable)
Black Marketing and Violating AUT Official Rules.
Rule 5
No Giveaways/Advertising
Giveaways/Advertising here are mostly for subscribers/Discord Members. Instead of giving what they promise to you, they will give there objects to their alts. Even if sometimes they don't do that, they still want to gain something in exchange for what they are "giving" you.
1st Time - 1 week Block

2nd Time - 3 Month Block (Acc Creation disabled, Can't edit user page)

Advertising
Rule 6
No Impersonating AUT Staff
If you try and impersonate anybody on the AUT/AUTW staff team, it will result in a perm-ban, until you change your Fandom Username.
1st Time - Perm Ban (Until you change your username)
Impersonating
Rule 7
No Homophobic/Racist Slurs
Saying/Posting anything offensive to another race/People of Pride will result in a mute.
1st Time - 4 Days

2nd Time - 6-7 Days

3rd Time - Permanent Ban (Unappealable)

Racial/Homophobic Slurs
Rule 8
No Offensive Post/Comments, etc.
Saying anything very offensive to another user of the wiki will result in a mute.
1st Time - 3 Days

2nd Time - 5 Days

3rd Time - Permanent Ban (Unappealable)

Being Offensive
Rule 9
Have Common Sense
If you think something you are about to do is against a rule not listed, ask a moderation staff if you are allowed to do it, if not but do it anyways, it will result in a mute
1st Time - 2 Days-Infinite

2nd Time - 4 Days-Infinite

3rd Time - Permanent Ban (Unappealable)

Common Sense (Rule Broken)
Rule 10
Harassment
Harassment to users/Making other users uncomfortable with most of your post
1st Time - 3 Days

2nd Time - 5 Days

3rd Time - 7 Days

Harassment
Rule 11
Follow Fandom Guidelines
Follow the rules that Fandom has given out, if you are not able to follow those rules, a AUTW staff or a Fandom Staff will be called
1st Time - 1 Days-Infinite

2nd Time - 2 Days-Infinite

3rd Time - Permanent Ban-Global Ban

Breaking Fandom TOS
Rule 12
Swearing at other Users
Profanity at other users is not permitted
1st Time - Warn

2nd Time - 1 Day Block

3rd Time - 3 Day Block

4th Time - 1 Month Block

Harassment
Additional
Never delete a useful page. (Demoted if you're an admin)
Do not be mean to other users and staffs.
Never cross trade. (Robux for stands or something in another game)
Never make an useless page. (Will be deleted)
Never spam. (Can be blocked)
Be nice to people.
Don't be toxic. (Can be blocked and all of your posts might be deleted) (Refer to the rule above)
No trading in this wiki. (Kur has stated that any other trading outside of the discord is considered black marketing of stands and items) Trading isn't allowed until this wiki becomes official.
Do not necropost. (Posting on a thread that hasn't been commented on in 2 weeks/14 days)
Do not start inter wiki drama.
Do not beg for robux or anything.
Please do not make NSFW custom stands like the so called **Made In Hentai**. (Can be permanently blocked)
No Discord Advertisement.
No editing other users profiles. It'll be a warn, then 1 day block, then infinite block from fandom, as it will be taken as your account was hijacked.