"Just one world, with the best of the others." —Cross
Info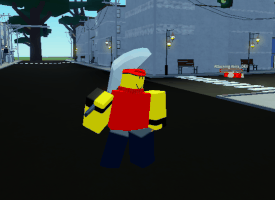 XTaleChara (also known as Cross Chara when he's with Cross in his phantom form, and X-Event!Chara, or more simply XChara) is a major character in the X-Tale Universe and Underverse. XTaleChara was originally a child of XGaster, and after InkSans shows him the multiverse, XGaster begins his experiment with X-Tale. With each new timeline, someone related to XTale!Chara would die thanks to XGaster. After a few more timelines, XTaleChara tried to rebel against XGaster, but he's defeated and he ends up being XGaster's experiment, the X-Event, granting him his Overwrite powers. In order to keep his neglected brother alive, however, he overwrites himself into XTaleFrisk.
Attainability
X-Chara is obtained by using a X-Soul on Sans.
Dialogue (When using X-Soul on Sans)
Sans: So you're getting rid of me...
Moveset
Abilities

| Key | Move | Description |
| --- | --- | --- |
| LMB | Slash | The user performs 3 quick slashes, dealing 20-31 damage, and applying the first passive. |
| F | Ground Control | The user jumps and then slams down with their knife dealing 25 damage or so. |
| B | X Blaster | A Gaster head summons and fires a red beam directly at the player's cursor, dealing about 35 damage to whoever is hit. |
| R | Double Tap | The user uppercuts the enemy into the air, and multiple knives appear and strike the opponent, dealing high damage. Doesn't work sometimes. |
| Y | Reverse | The user stops for a moment and touches their chest, healing the user 45 HP. |
| Q | Overwrite Activation | When holding Q, the overwrite button will appear and the large knife will turn into a neon pink. This is the activation for Overwrite Mode. |
| R | Knife Uppercut | The user swings the sword upwards, and if anyone is it it will send them into the air and have knives fly at them. This does 60 damage. |
| E | Glitch Stab | The user teleport to the opponent and slashes them, knocking them back and dealing 26 damage. Disables moves. |
| N/A | Soul Absorb (Currently not working) | This move only works if the enemy is at red HP. Once done so, the player will absorb the enemy's soul, healing the user for a maximum of 800 HP and finishing off the opponent and increasing the life of the player by a little bit. |
| V | Glitch Teleport | The user teleports a few studs forward, one of the longest teleports in the game |
Overwrite/Activate Moveset
Keybind
Move
Description
Damage
Cooldown
LMB/M1
LMB Slash
20-31 Damage
E
Glitch-Stab
The User teleports then Slashes the Enemy and disabling all of the enemy's moves for about 2-3 secs
23 Damage
R
Knives-Barrage
The User Slashes Up Against the Enemy, If Hit, Recipient

Will go up into the air and get Barraged WIth Knives

60 Damage
Gallery
Old Universe
Tips
It is recommended you try to get Sans instead of X-Chara as it has a broken move that has not been fixed for a long time. Sans has ranged attacks as well and has more moves. X-Chara is an 'counter' to Sans and can punish moves made by Sans but a lot of other stands can put X-Chara in it's place.
Pros
Reverse(heal) has a relatively short cooldown
X-Blaster has decent damage
Long teleport distance
Absolutely broken in URF and you can instantly heal yourself back to max HP.
Cons
Both T moves have small hitbox, Therefore being hard to land.
X-blaster needs space to land a hit.
For now, All of X-Chara's passive abilities are glitched
X-Chara has 2 poses and 3 music variations.
Trivia
X-Chara no longer has X-Sans in New Universe. Formerly 2 Souls in One Spec.
The three music for X-Chara's pose are:

Combos
(Overwrite) m1 x2, R, (Wait till end), F